Return to Headlines
Roush Named to National 35 Under 35 Class for Emerging Leaders in School Communications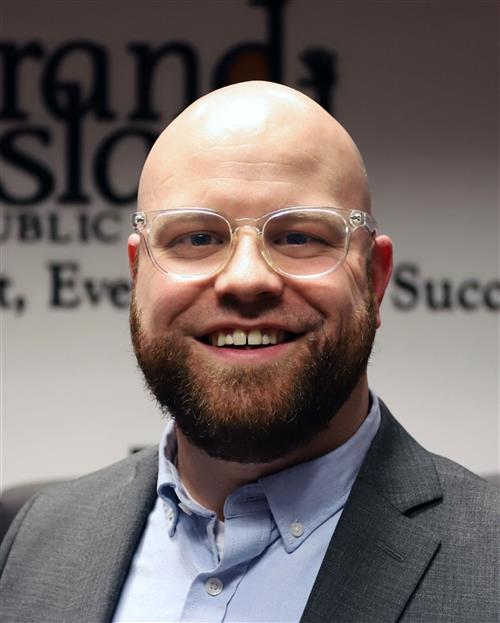 Celebrating students and staff is at the center of what Mitchell Roush does every day.


As the Grand Island Public Schools Director of Communications & Marketing, Roush is a champion for public education and believes in amplifying student and staff voices. His passionate work in leading the district's communications team has earned him national recognition.


Roush was recently named to the National School Public Relations Association (NSPRA) 2022-2023 "35 Under 35" Class, which honors emerging leaders in school communications across the country.


"Whether it's catching a group learning exercise, covering a schoolwide event, snapping photos at reading time, tagging along on a field trip, capturing show choir footage, or interviewing high school students about their future aspirations — spotlighting our diverse student experiences is what it's all about. And watching our expert teachers invest into their development is about as inspirational as it gets," Roush said.


NSPRA had a record number of nominations this year, making the selection process very competitive. Since the 2015-16 school year, NSPRA has named 210 school communicators to six 35 Under 35 classes.


Jennifer Worthington, Chief of Strategic Partnerships and Stakeholder Engagement, oversees Roush and the communications department at GIPS. She said Roush is a great advocate for GIPS, students, and staff.


"In addition to his dedication to our students and staff Mitch is quick to recognize his team over his individual contributions. Mitch has created a true strategic communications team that is highly qualified and creative and all share the passion for the work of public education," Worthington said.


Since joining GIPS in 2021 Roush, with support of Administration, has helped grow the district communications team. He leads a team of two other full-time staff and one part-time student intern from Grand Island Senior High.


"Our mission at GIPS is, 'Every Student, Every Day, A Success!' and I can honestly say our Administrators, Principals, Curriculum Coaches, Teachers, Paraeducators, Translators, Creatives, Nutrition Staff, everyone is fueled by that charge. I learn something new from someone awesome in our district every day," Roush said.


The GIPS communications team leads the storytelling efforts for the whole district, serves as frontline media curation, develops all multimedia and marketing collateral in-house, and much more. In the past year, Roush and his team have launched a new district website, launched the district's first podcast "The GIPS Cast," trained principals and supported the roll-out of digital school newsletters, and more.


"We're here for the kids. Our community never tires of hearing how our students are learning to grow, do, and become," Roush said.
#WeAreGIPS