Return to Headlines
"Moving Forward Together" - GIPS Superintendent Shares State of the City Message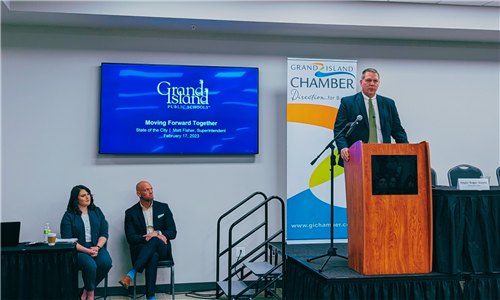 February 17, 2023
Grand Island Public Schools was invited to be a featured presenter at the annual Grand Island State of the City for 2023.
Mr. Matt Fisher, Superintendent, shared a message of "Moving Forward Together".
A video and full transcript of Mr. Fisher's message may be found below.
Thank you to the Grand Island Area Chamber of Commerce Young Professionals for hosting!
--
"Moving Forward Together" - Mr. Matt Fisher, GIPS Superintendent
Thank you to the Young Professionals for hosting this State of the City event! I am grateful for the opportunity to connect with leaders in our community on behalf of Grand Island Public Schools.


As most of you know, Grand Island Public Schools is a large, diverse fixture in our community. With nearly 10,000 students, over 1,500 staff, and 23 school buildings — we, in many ways, represent the heartbeat of Grand Island. Serving our community, and more importantly, serving your children, is our overarching mission.


It is no secret that the Grand Island Public Schools district has experienced a season of transition. But I firmly believe that with this transition comes great opportunity. So, after a couple of weeks on the job, I stand before you today poised to share a quick glance at what I see in our district and community.


I want to share with you a vision. A vision that appreciates what makes us strong now, while still seeking ways to become better. A vision of recognizing the importance of and supporting education in our community. A vision of moving forward together.


While I may have only sat in the GIPS chair for a few short weeks, I can assure you that the Grand Island Public Schools district remains strong and stands on the cusp of exciting progress.


I want to affirm three things for you, for our staff, and for our students and families.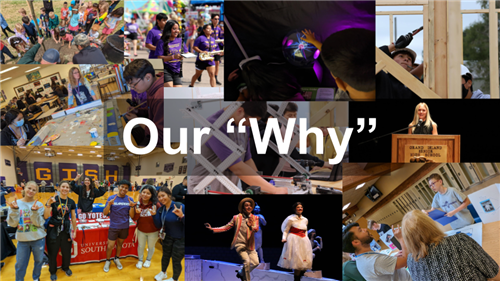 Affirmation #1:
We have great people here at Grand Island Public Schools.
No matter what transitions await us in the near and distant future, we can confidently say that our employees are among the best. And they show-up every single day to serve our students, to serve your children; to help them unlock their potential and empower them to achieve both inside and outside the classroom. Our para-educators, our administrative assistants, our custodial and maintenance staff, as well as our nutrition staff all do vital work for our students on a daily basis.


I want to take this opportunity to single out one other group as we are teetering on the brink of a crisis around this group, here in Grand Island, across Nebraska and across our nation. There is a very real, and very dangerous, teacher shortage.


I think we can all agree that investing in the lives of our children's education is an honorable profession. But it is no secret that teachers are feeling burnt out and over burdened now more than ever before. I truly believe we have remarkable educators in every corner of our district. I also believe they deserve to feel consistent, genuine support at all levels. It's my job to help lead that charge for our school district, but support must come from all across our community.


Each of you had your lives changed for the better by a teacher or multiple teachers. Our students are living that wonderful reality today. Let us partner together to expand efforts to support our teachers, to value their expertise, to make sure their voices are heard and appreciated across our community. I encourage you to thank a teacher when you see them, and to support their vital work in any way you can. They are the backbone of Grand Island Public Schools and our community.


We move forward by remembering why we are here in the first place, our students. We move forward by appreciating and supporting the valuable everyday heroes we have in our buildings. We move forward together by all of us holding onto and embodying our mission statement of, "Every Student, Every Day, A Success".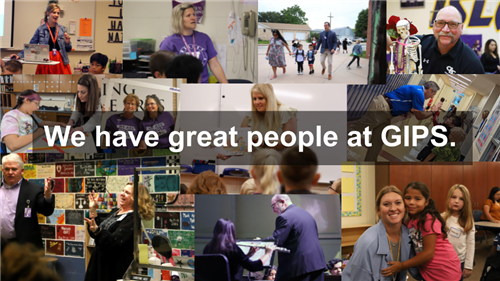 Affirmation #2:
We have much to be proud of at GIPS.
If I could use one word to sum up what I've experienced first-hand throughout the district so far, it would be GROWTH. Every corner of our district models growth and pride.


Take for instance, this year's Freshman Class being the largest Freshman Class in Grand Island Senior High's history — the ways we are finding to serve these students' diverse needs is something of which we can be proud.


We have seen impressive growth in early literacy scores across the board in all of our Elementary Schools — truly something to be proud of.


Growth is also seen in our expanded focus on Math and Science at the Middle School level — another source of pride.


We take pride in our Newcomers program as it continues to grow week by week, increasing the number of families and students we may serve as they seek to find a place to call home in our country.


In a year when our state saw a record decline in test scores, our district outperformed that dip and we saw improvement in ACT scores at the High School level in all areas — that is something of which we can be proud.


The 10 new Social Emotional Creative Arts teachers we have added in our Elementary Schools are bringing an art focus back to our youngest learners and freeing up our counselors to do what they do best — we take pride in being able to provide new opportunities for students to grow.


While the work is ongoing, we believe we have much to be proud of at GIPS. Which is why we have compiled this Annual Report, to share snapshots of our students, staff, and their meaningful experiences with you. Each of you has a copy of our latest Annual Report at your seat. We will be sharing this out to mailboxes across the city as well as sharing it online. As one of Nebraska's largest, most diverse public school districts — we invite you to join us in celebrating our student achievements, affirming our teacher expertise, and exploring new opportunities to grow, learn, and thrive.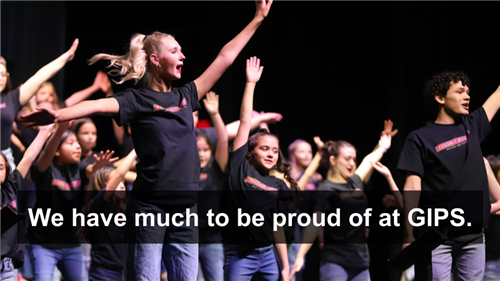 Affirmation #3:
Our immediate plan as a district is to narrow our focus.
An organization is only as strong as its priorities. Our number one priority remains constant, our students. We want to ensure the ways we move ahead provide the support and opportunities our students need most.

At this stage in my tenure with GIPS, I am most certainly in the mode of listening. Listening to our leaders, teachers, students, parents, and the community to hear what's important to them; how have we found success; what challenges are we facing. Throughout these initial conversations, I can confidently share that one of the ways we will move forward is by narrowing our focus to what matters most for our students, right now.


Recruiting & Retaining Expert Teachers
The national teacher shortage is no stranger to us. As I shared previously, we are fortunate to have some of the best in the educational arena here in our district. We want them to feel welcomed and respected and to give them reasons to stay. Additionally, we will have to be more proactive and strategic in our recruiting efforts. We must identify ways we can grow our own, as well as expanding the nets we cast beyond our state and region.



Continuing our expanded focus on core curriculum.
English Language Arts, Math, Science, and Social Studies – we are seeing strides being made here within GIPS. But we still have farther to go. I believe our district leaders and building principals are aligned in making this a priority going forward so that we may continue to champion our students as they learn, grow, and achieve.



Being intentional with communication and collaboration with all of our stakeholders.
This includes students, teachers, administrators, board members, families, and the community at large. As I shared, we have much to be proud of here. There is also much work to be done here. We want to be intentional going forward in how we share that pride, as well as how we work together to continue to improve. It is in the community's best interest for us to provide a strong, grounded, yet innovative education for our children.


We move forward together by continuing to do right by our students and staff. We move forward by sharpening our focus and collaborating on common goals.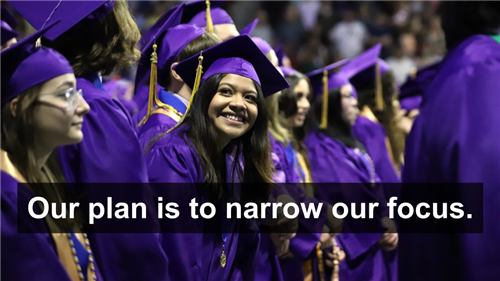 Times of great transition bring great opportunity.


Great opportunity to affirm our incredibly diverse and impressive students. Great opportunity to support our educators as they champion our children. Great opportunity to celebrate the growth we are seeing in every corner of the district. Great opportunity to use that growth to propel us forward to where we want to be. Great opportunity to re-establish our priorities and to thrive.


Thank you for sharing your time and attention with me today as I share a vision of moving forward with confidence and collaboration.

On behalf of the entire GIPS Board of Education and Staff, we look forward to working with each of you as partners to ensure our students remain the focus.


We do the work together and we cross the finish line together. Thank you for moving forward alongside us.
#WeAreGIPS