Return to Headlines
Howard Principal Retiring - Thank You, Mrs. Schnitzler!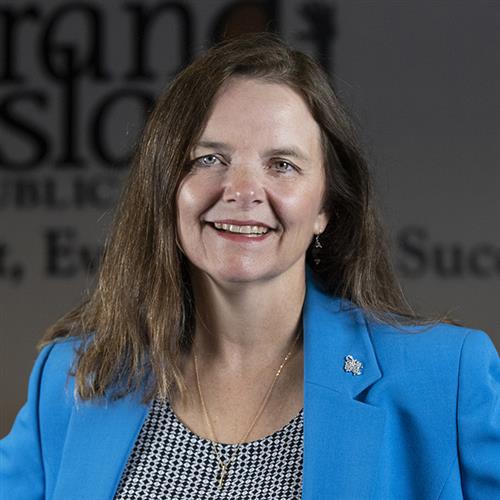 After a fulfilling career in education, Julie Schnitzler has shared that she will be retiring at the conclusion of this school year. We are sad to see her go but are grateful for the years of service, strong leadership, and inspiration she has brought to Howard Elementary and Grand Island Public Schools.


Mrs. Schnitzler served as Principal at Howard Elementary for 15 years. Throughout her tenure leading Howard, she remained consistent in leading with empathy and championing opportunities for every single student. Those that have had the opportunity to work with her understand her passion for public education and supporting teachers.


Dr. Toni Palmer, GIPS Chief of Leadership and Learning, affirmed Mrs. Schnitzler's meaningful work,


"Mrs. Schnitzler has always served as leader with the best interest of students in mind. Throughout her tenure, she intentionally sought out initiatives such as the continuous calendar, Makerspace, community partnerships, full day preschool, and numerous after school programs to ensure students have access to high quality instruction and a variety of opportunities and experiences. She will be remembered for fostering a culture of care, inclusiveness, and acceptance, and special events and traditions such as The Veteran's Day assembly, May Day celebration, and family game nights. I appreciate her commitment and dedication to education and want to recognize her for the difference she has made for so many throughout her educational career. I wish her all the best in her retirement."


We cannot thank Mrs. Schnitzler enough for all she has done to bring vibrant learning to the forefront.


Mrs. Schnitzler shared,

"It has been an honor and a privilege to be the educational leader for Howard Elementary School. I am so proud of our students' academic success and the professional growth and success of my teachers. Making the world a much better place one student at a time has been rewarding and makes it a difficult decision to retire."


As Mrs. Schnitzler looks to ease into retirement, GIPS is committed to finding the right new leader to help Howard Elementary venture into its next chapter. We will share more as the process develops.


Thank you, Mrs. Schnitzler, for making a difference at Grand Island Public Schools!
#WeAreGIPS