Return to Headlines
New Early Childhood Education Director Named — Congratulations, Mrs. Schnitzler!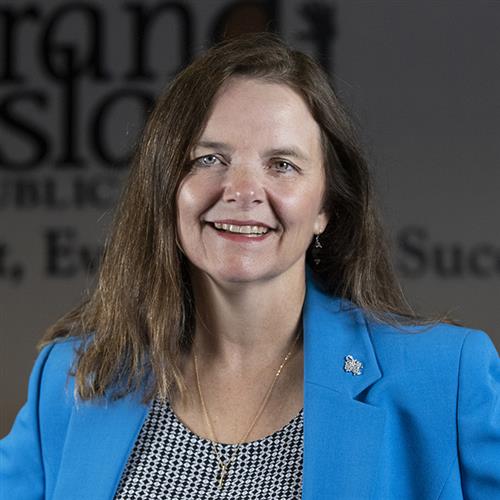 April 18, 2023


Grand Island Public Schools is pleased to announce that Mrs. Julie Schnitzler will be UN-retiring and moving into another leadership role within the district! Schnitzler will be serving as the new Director of Early Childhood Education and the O'Connor Learning Center beginning this summer. We are excited to have Mrs. Schnitzler staying with GIPS for a while longer as she continues to make a positive impact in the lives of students, families, and staff.


Mrs. Schnitzler served as Principal at Howard for 15 years. Throughout her tenure leading Howard she remained consistent in leading with empathy and championing opportunities for every single student. Those that have had the opportunity to work with her understand her passion for public education and supporting teachers.


While initially the idea of retirement sounded like a new welcome chapter, ultimately Mrs. Schnitlzer could not resist an opportunity to continue championing pre-school education.


Mrs. Schnitzler shared:
"I am honored to be a part of the early childhood education program in Grand Island Public Schools. It is vital that we provide experiences that prepares our children for school, and Ms. Amy Richards has done just that. Under Ms. Richards' direction, we were able to start pre-school at Howard Elementary, and we can tell these students have benefited from the learning experience and are ready for the rigors of kindergarten. I'm excited to partner with our pre-school teachers and staff to provide our youngest learners the very best education."


GIPS cannot thank Mrs. Schnitzler enough for all she has done to bring innovative education and student livelihood to the forefront.


Dr. Toni Palmer, GIPS Chief of Leadership and Learning, affirmed Mrs. Schnitzler's happy un-retirement:
"Mrs. Schnitzler has always been willing to support the district in any way so I am not surprised that she is willing to serve our students by stepping into this position. She will bring a wealth of experience and leadership to build on the amazing programs and services already provided to our youngest scholars."


Of course, this transition comes on the heels of Ms. Amy Richards sharing she will pursue other professional opportunities at the end of the school year.


While Mrs.Schnitzler is certainly a familiar face here within the district, GIPS will be sure to provide opportunities for Early Childhood Education staff, families and students to connect with her before the new school year.


Grand Island Public Schools is looking forward to seeing Mrs. Schnitzler continue to make a difference in the district!

#WeAreGIPS