Return to Headlines
'Unite & Thrive' club models positive relationships, while providing more opportunity for students identified with disabilities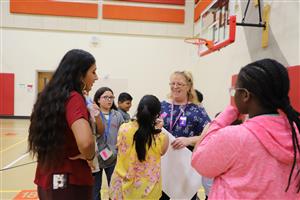 When there's no path, you have to create one.
Jordan Allen, a Stolley Park Elementary parent, knows this all too well.
"A lot of special needs parents are used to doing everything on their own," Jordan said, reflecting on her own experience. "They're creating opportunities [for their children] on their own and don't have access or as many opportunities to grab onto."
A couple of summers ago, Jordan was able to grab onto one opportunity for her daughter that changed everything: a special needs gymnastics class.
"It was such a positive experience, that I wanted to take that and duplicate it within the school system," Jordan said.
That one opportunity led Jordan to create the Unite and Thrive Club — a collaborative effort at Stolley Park and Starr Elementaries. After working with district and school administrators and staff to organize a plan, the program was born.
The Unite and Thrive after school program partners neuro-diverse and neuro-typical students and provides opportunities to learn physical and social skills. The six-week program is held in the Fall and Spring, and follows a curriculum that teaches skills such as running, balance, self-confidence, responsibility and more.
High school students involved in Unified Track and Field are also involved, as they partner with the younger students to model positive behavior.
Andrea Hill, Unified Track and Field coach at Grand Island Senior High, chooses different students each week to help with the Unite and Thrive club.
"I'm giving my kids a chance," Andrea said of her students. "We were so excited to be a part of this, because we want to be the role models. We want to set the example. We want to come and show and learn with the kids."
The mission of the Unite and Thrive Club program is to provide meaningful experiences for the participant and partner, while also providing social inclusion that impacts the entire school climate in a positive way. The program promotes respect, acceptance, and diversity in each student.
"Beyond the physical activity that these kids get to be a part of, it also offers them an opportunity to build relationships, and to practice social skills," Jordan explained. "It offers our partners – our neuro-typical kids – an opportunity to better understand our neuro-diverse children, to be more comfortable with them in a school setting, and be able to help them if they see they could use a little support," she said.
The program is funded through the GIPS Foundation, which is actively receiving donations to cover staff and material costs. The goal is to expand the program to other schools so more students have access to this opportunity.
"Seeing this program come to fruition has been a huge win for me personally, but also for all families that have a child that gets to be involved in this," Jordan said. "This can create more of a community for families in this town, in this school district, and that is very rewarding."
To donate to the Unite and Thrive program, visit www.gipsfoundation.org.