Return to Headlines
Longtime GISH Leaders, Gilbertson & Wells, to Retire at the End of the School Year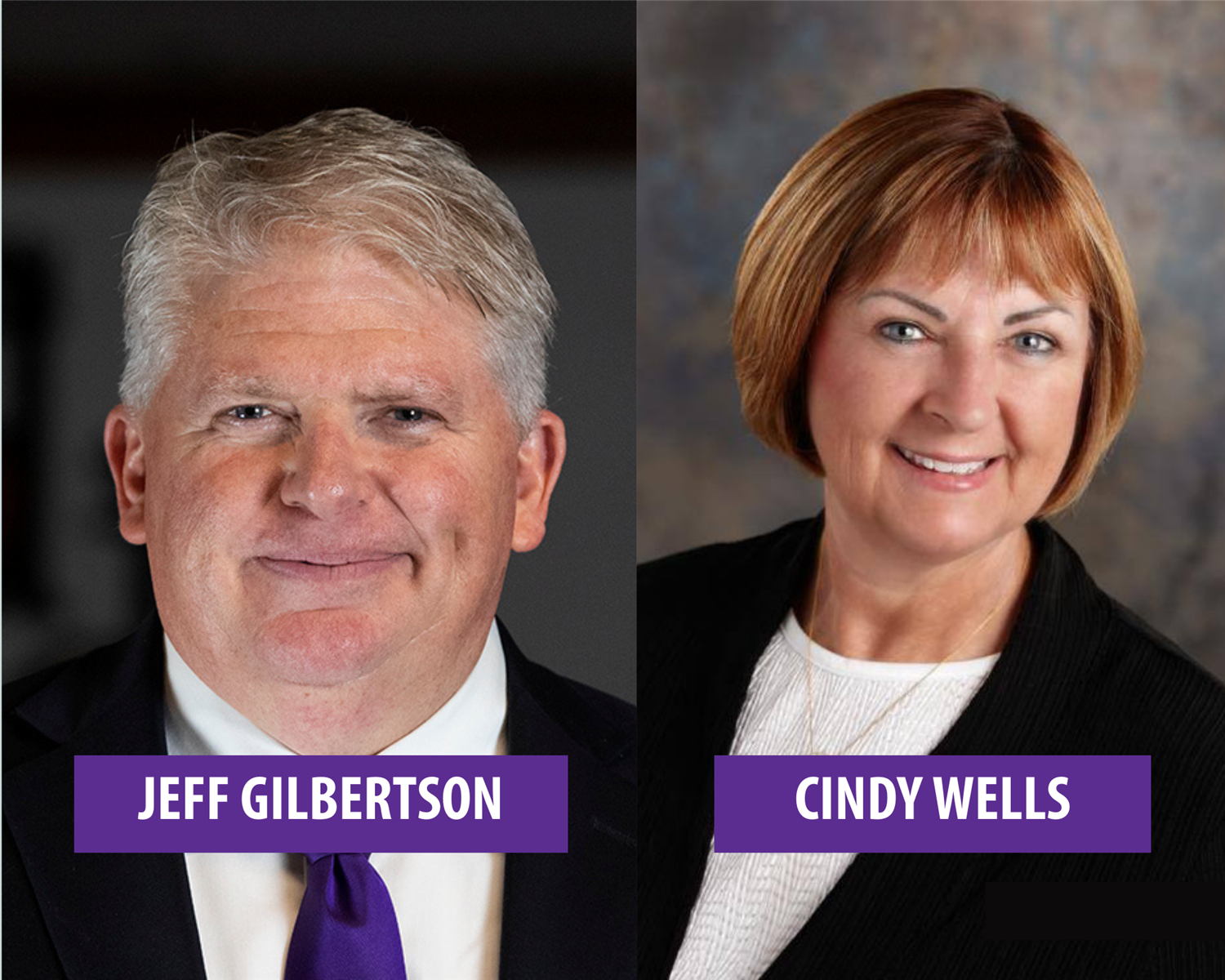 October 27, 2023

After decades of championing student success and leading one of Nebraska's largest high schools together, Mr. Jeff Gilbertson and Mrs. Cindy Wells have decided they are both ready for their next chapter — retirement.

Both Wells and Gilbertson have shared they will finish the 2023-24 school year in their current roles and aim to make their last school year just as meaningful as their first. We are incredibly grateful at GIPS for the countless hours of education, leadership, mentoring, and advocacy Mr. Gilbertson and Mrs. Wells have brought to the district throughout the years.


Jeff Gilbertson is the Executive Principal at Grand Island Senior High and has been serving in that role since 2012. Prior to leading GISH, Gilbertson has served in leadership roles throughout the district since 2001 where he started as Principal for Seedling Mile and Stolley Park Elementary Schools. In his more than 20 years in the district, he has been an agent of progress and consistent leadership at every level: Elementary, Middle School, the district office, and, most notably, Senior High.


Culminating a landmark career, Gilbertson was named the Nebraska High School Principal of the Year in 2022 by the Nebraska State Association of Secondary School Principals (NASSP).


Mr. Gilbertson was also instrumental in the dream and establishment of the Academies of Grand Island Senior High — Nebraska's first High School to implement a career academies model. Keeping with the theme of "Nebraska firsts", under Gilbertson's tutelage, the Academies also became the state's first school to provide registered apprenticeships for Career & Technical Education (CTE).


He contributed to acquiring the $13 million GearUp Promise Grant for Grand Island Public Schools, empowering a leadership team of Academy Principals, expanding the slate of AP and Dual Credit Courses for students, supporting the growth of additional GISH campuses, and so much more.


Those that have had the opportunity to work closely with Mr. Gilbertson understand his commitment to students and staff.


"I am eternally grateful for the extraordinary opportunity that I have had to serve the amazing students, parents, and staff within the Grand Island Public Schools in a variety of leadership roles over the past 23 years." Mr. Gilbertson shared, "I am excited to fully support the smooth transition of new leadership at Grand Island Senior High and prepare for the next chapter of my personal and professional life."


We cannot thank Jeff Gilbertson enough for all he has done to transform education in Grand Island and Nebraska.


And in leading the way of student achievement, Mrs. Wells will certainly leave big shoes to fill.


Mrs. Cindy Wells joined the district and GISH in 1981 as the head volleyball coach for the Islanders. Throughout her 40-plus years in the district Wells served as a Special Education Teacher from 1984 - 2000, adding English classes to the mix as well in 1996. In 2000 she stepped into the Assistant Principal role before leading as the Activities Director in 2017.


Mrs. Wells became a constant voice of positive encouragement and bold leadership in her time as GISH's longest tenured employee while making her mark across the state.


"It has been such an honor to serve the Grand Island Public Schools for the past 43 years." Mrs. Wells reflected, "This career has offered me so many memorable experiences and I have gained such good friends along the way. My life has been positively impacted by the students, families, staff and colleagues that I have had the pleasure of working with and learning from each day. I have enjoyed every position I've held and have been fortunate to learn from talented mentors and colleagues. I will always cherish my years in public education. Now I look forward to enjoying some special Grammie time!"


Although saying "goodbye" is always emotional, it is certainly a huge "Thank You!" among all else. Mr. Matt Fisher, GIPS Superintendent, affirmed the massive, positive impact Gilbertson and Wells have brought to students, families, and beyond.


"Mr. Gilbertson and Mrs. Wells have made huge contributions to the success of Grand Island Senior High for many years." Fisher affirmed, "Their leadership and support of students has impacted thousands of lives in many positive ways. The district is grateful for their many years of service."


As Mr. Gilbertson and Mrs. Wells finish the school year strong while looking forward to well-deserved retirements, GIPS will prepare for notable leadership transitions at Grand Island Senior High.


Looking ahead for the GISH Executive Principal vacancy, the district will consider both internal and external candidates. In the coming weeks the position will be listed publicly and a nationwide search will begin for the new leader of one of Nebraska's largest High Schools.


The goal is to land on a candidate before the end of the school year so the incoming Executive Principal may be able to shape the future of the GISH Activities Office and assist in selecting a new Activities Director. GIPS will certainly share more updates throughout the year as the process develops.


Thank you, Mr. Gilbertson and Mrs. Wells, for the immeasurable impact you brought to the lives of thousands of students and for the proud legacy you will leave behind!

#WeAreGIPS