Return to Headlines
GIPS middle schoolers find success at state track meet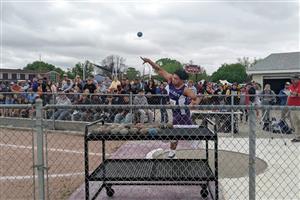 Records were broken and medals secured as middle schoolers from across the district competed at the state Middle School Track & Field Meet in Gothenburg on May 13, 2023.
Grand Island Public Schools was well-represented at the meet, as 16 students from Westridge, Walnut, and Barr qualified. Of the 16 students, four medaled in six events.
GIPS middle school track & field athletes smashed both personal records and school records throughout the season. Twelve school records were broken in the 2022-2023 season!
Great work, and congratulations to all the student athletes and coaches!
#WeAreGIPS
Results:
BARR:
Participants who qualified for the Middle School State Track
Roberto Blanco - 16th in high jump (clearing 5'3")
Head Coach: Clint Felber
High Jump coach: Steven Dunham
WALNUT:
Walnut Track Records Broken during the 2023 Track Season
Celene Beltran, 100m Hurdles (30") and 200m Hurdles (30")
Bradyn Sinsel, 200m Hurdles (33")
Participants that qualified for the Middle School State Track
Jorge Garcia - 17th in shot put; 12th in discus
Conference champion in discus and the shot put, and state qualifier
Coaches (who attended with Jorge): Jaynie Hawkins, Throws Coach, and Kim Luthy (Girls Head Track Coach)
WESTRIDGE:
Participants who qualified for the Middle School State Track
Men
100 Meter - Maxton Holling
200 Meter - Joe Aguilar
400 Meter - Joe Aguilar
800 Meter - Ethan Smith
1600 Meter - Ethan Smith
High Jump - Dawson Urbanski
100 M 33" Hurdles - Dawson Urbanski
200 M 33" Hurdles - Dawson Urbanski
Triple Jump - Jaden Brandt and Maxton Holling
4 x 100 Relay - Joe Aguilar, Maxton Holling, Evan Wiles, Dawson Urbanski
4 x 800 Relay - Isaac Geiser, Ethan Smith, Jarid Fischer, Madden Middleton
Women
200 Meter - Reese Jones
Triple Jump - Reese Jones
Long Jump - Reese Jones and Becca Dinkelman (Becca couldn't participate due to having knee surgery)
4 x 100 Relay - Reese Jones, Lilly Goodwin, Arianna DeCoff, Rylie Linden
Medalists at Middle School State Track
Joe Aguilar - 6th in the 400
Dawson Urbanski - 6th in 100 hurdles
Dawson Urbanski - 8th in 200 hurdles
Ethan Smith - 3rd in the 1600 Meter Run
Reese Jones - 2nd in the Triple Jump
Reese Jones - 8th in the Long Jump
Westridge Track Records Broken during the 2023 Track Season
Men
(8th grader) Ethan Smith - 1600 Meter Run (4:52)
(8th grader) Dawson Urbanski - 100 M 33" Hurdles (15.14)
(8th grader) Dawson Urbanski - 200 M 33" Hurdles (27.94)
(8th graders) 4 x 100 Relay - Joe Aguilar
- Dawson Urbanski
-Evan Wiles
-Maxton Holling (47.54)
(8th graders) 4 x 800 Relay - Isaac Geiser
-Ethan Smith
-Jarid Fischer
- Madden Middleton (9:20:57)
Ladies
(8th grader) 200 Meter Dash - Reese Jones (27.56)
(8th grader) Long Jump - Reese Jones (17'0)
(8th grader) Triple Jump - Reese Jones (35' 2.5")
(7th grader) Hayden Manivong -100 Meter Hurdles 30" (17.64)
Westridge Coaches: Coach Morrow, Coach R. Falldorf, Coach I. Falldorf, Coach Lindsey, Coach Marr, Coach Pogue, Coach Hofeldt