Return to Headlines
Howard Students Learn & Grow Together with Tower Garden Project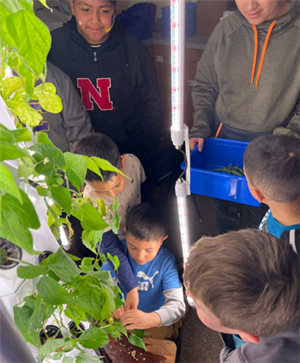 Small hands carefully plucked vibrant green pods from the plants.
"Plunk!" Into the bucket. The first harvest of the Howard tower garden was underway as Kindergarten and fifth grade students saw their hard work come to fruition with beans and spinach. Students planted the seeds in January 2023.
The tower garden project was brought to the district and then to Howard by Civic Nebraska. Howard is a pilot for this student experience. Mr. Jason Weseman's fifth grade class partnered with Mr. Jonathan Kleopfer's Kindergarten class and committed to growing and maintaining the tower garden plants. Together, each fifth grader has a Kindergarten grow buddy to take care of and harvest crops with.
"Our students have really learned about all the work that goes into gardening and tending to plants," Mr. Weseman said.
Kent Day, formerly with Civic Nebraska's Youth Civic Leadership Programs, helped bring the project to Mr. Weseman and Grand Island Public Schools.
"The Howard secretary and the district administrators noted his (Mr. Weseman) enthusiasm and willingness to experiment, and his indoor garden project proves them right," Day said. "Civic Nebraska provided the equipment and Mr. Weseman and his team of students got started on their end of the food chain. They assembled the tower, planted seeds and nurtured their crops," Day said.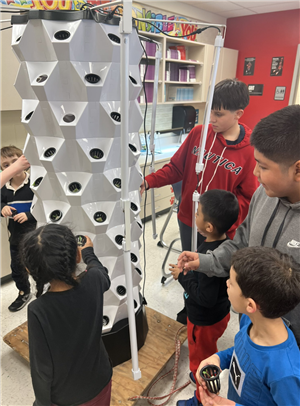 Weseman noted that the project provides a fun way to learn science.
"I think that the greatest benefit of this opportunity is for our students to see science concepts in action. At each level, whether it be Kindergarten or fifth grade, we learn about plant life and this experience allows us to see first hand these science concepts as well as the many different ways plants can be grown," Weseman said.
Along with the process of science and gardening comes research and determination in times of failure. Mr. Weseman said sometimes plants don't grow and then need to be replanted. He mentioned the students have learned by research and by trial and error. The students have learned that there are many different ways to grow plants. For example, the grow tower plants do not need soil like traditional gardening methods use.
"Since our plants are not exposed to any natural sunlight or rain, we have had to research how to make sure that our plants are getting adequate light and water," Weseman said.
"With our research, we learned how to simulate those natural processes with timers controlling light and water within the grow tower to "trick" the plants into thinking they are growing in an outdoor space. We have learned that when these timers and systems are not set correctly, the plants will struggle," he said.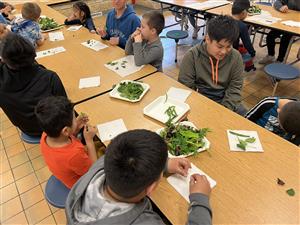 Weseman affirmed Kleopfer's partnership helped make this opportunity possible, due to his gardening experience and willingness to be adventurous for the benefit of student learning.
The fifth grade and Kindergarten student partnership through this project also helps develop soft skills and teamwork skills.
"Fifth graders have learned how to mentor a Kindergartner, and Kindergartners have experienced how to ask questions and receive feedback from fifth graders," Weseman said.
"Overall, there is a lot of magic to witness when you see fifth graders and Kindergartners tending to small plants and learning at the same time," Weseman said.