Return to Headlines
Islanders finish with 19 medalists, 11 national qualifiers at state SkillsUSA competition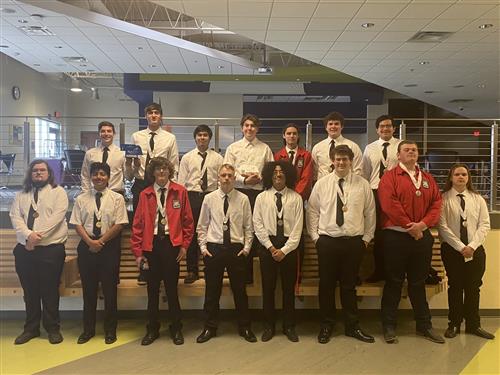 The Islanders kept the hardware at home, as they competed well during the Nebraska State SkillsUSA Leadership and Skills Conference in Grand Island earlier this month.


Grand Island Senior High had 51 students who competed, which ranged from sophomores to seniors. The Islanders finished the competition with 19 medalists and 11 national qualifiers.


Students who are awarded first place also qualify for nationals in Atlanta June 19-23, 2023.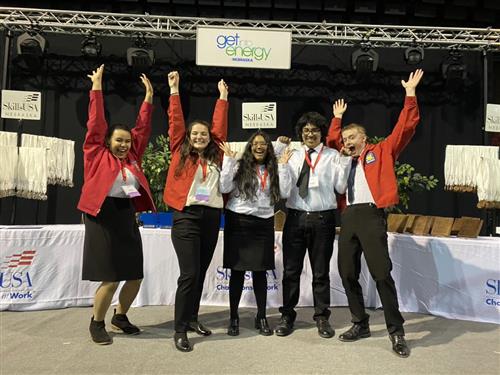 D.W. Holley, Academy of Technical Sciences principal at GISH and Career Pathways Institute, said the SkillsUSA participation this year was outstanding. He said of the medalists, five were sophomores.
"The future looks bright for SkillsUSA at GISH. I want to thank all of our instructors who put in extra hours preparing students after school and on weekends to help them be competition ready," Holley said.
He mentioned the students were well prepared for the competition and teachers were an important part of that. Staff members and teachers involved in preparing students for SkillsUSA are: Brett Forsman, Mike Samuelson, Alex Kemnitz, Eric Sell, Spencer Trout, Haley Koeppke, Michael Lowe, Jae Kim, Brandon Piersol, and Michala Soundy.
"They were all instrumental in getting kids involved in SkillsUSA as well as staying long hours during competition week. Early mornings and late nights are the norm for those dedicated instructors," Holley said.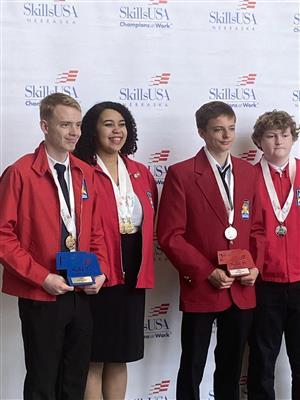 SkillsUSA winners and competitors:
Robotics: Urban Search & Rescue
Antonio Corretjer
Nick Krichau
Quiz Bowl Team- 1st place and National Qualifier
Callie Taylor
Meredith Barrett
Isamar Caceres Meza
Saul Gonzalez
Laynden McPeek
Technical Drafting
Callie Taylor
Boyd Bartlett
Marco Jimenez
Additive Manufacturing
Alexander Roeser & Mason Messmer 1st place and National Qualifier
Alex Flores Ramirez
Julie Engel
Logan Ripp & Corbin Bergmeier -3rd Place
Duong Tran
Samuel Brooks
Cyber Security
Laynden McPeek & Meredith Barrett 1st place and National Qualifier
Culinary Arts
Daniel Garcia
Mobile Robotics Technology
Orion Miller
Caleb Hall
Nathan Manka
Edwin Ortiz
Welding-
Jax Wiesen
Gage Pfeil
Diesel Equipment Technology
Christopher Rosales
Caleb Eilers
Alex Johnson 1st place and National Qualifier
T-Shirt Design
Christopher Rosales - 2nd Place
Automotive Service Technology
Christopher Rivera
Kurtis Parmenter
Vanessa Lempka
John Fieldgrove
State Only - Mouse Trap Vehicle - Distance -SR
Hazzard Eilts, 1st Place
Braylon Bilslend
Juana Reynoso Bautista
Marco Jimenez, 2nd Place
Duong Tran, 3rd Place
CNC Programmer
Hazzard Eilts, 2nd Place
Austin Meyer, 3rd Place
State Only - Bridge Building SR
William Hatfield
Corbin Bergmeier
CNC 3 Axis Milling Programmer
William Hatfield, 1st place and National Qualifier
Joel Ceballos, 2nd Place
Power Equipment Technology
Connor Bader, 2nd Place
CNC 2 Axis Turning Programmer 8:00 Friday
Jordan Hunter, 2nd Place
Sven Matthiessen, 1st place and National Qualifier
State Only - Precision Machining Technology
Jackson Green
Architectural Drafting
Braylon Bilslend, 2nd Place
Juana Reynoso Bautista
Baking & Pastry Arts
Emily Reimers
State Only - State T-Shirt Contest
Corbin Bergmeier
State Only - Mouse Traptor Rull - SR
Corbin Bergmeier
Sheet Metal
Richard Mateo, 1st place and National Qualifier
Carpentry
Aisha Martinez
Juan Astudillo
Carson Jonak
Charlie Gentry
Plumbing
Anthony Witter
Arie Figueroa
Heavy Equipment Operator
Chase Edwards, 2nd Place