Return to Headlines
Westridge students visit UNK for first generation college experience
One trip to a college campus changed an entire mindset.

Forty-two Westridge Middle School students had the opportunity to tour the University of Nebraska at Kearney and hear from a panel of first generation college students. The middle schoolers who made the November 9 trip were all potential first generation college students.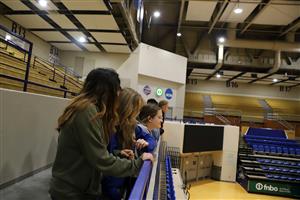 "That's the demographic we wanted to target because we wanted to help make that future more possible," said Jake Morrow, Westridge school counselor. "This visit provided them that opportunity to explore an affordable, nearby university like UNK," he said.


Morrow organized this opportunity for Westridge students, thanks to an Education Quest grant he heard about from a guest speaker in one of his master's courses. Morrow applied for and was awarded the grant, most of which covered the transportation cost.


"That was really great because that's the primary barrier," Morrow said of the cost. "It's really hard in public education to find funding for these kinds of things. We removed that obstacle, and we ended up with this opportunity," he said.


Listen to Mr. Morrow share more on "The GIPS Cast" podcast HERE.


As a middle school counselor, Morrow knows students are in their formative years and finding out who they are. He said he and his fellow middle school staff are in a position to "support and help develop our students so that they're prepared for high school and beyond."


Students split up into smaller tour groups so get a more personalized experience. Students were able to see various areas on campus, including the student union, a lecture hall, the rec center, library and more.


When Morrow was organizing the visit, he wanted to include something more. He decided to use connections to gather a panel of first generation college students. The college students shared their unique stories and experiences with the middle schoolers, as the college students were once in the middle schoolers' shoes. The students on the panel came from different backgrounds and had different ways they funded their education.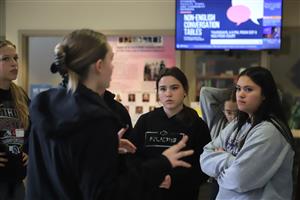 Morrow said after the UNK visit, he heard a lot of positive comments from his students.


"I had tons of kids coming up to me making comments of 'I think I am going to go to college now' or 'I'm going to UNK' specifically," Morrow said. "These are students that at times struggle to see the big picture connecting their current academics to their future. I really hope this experience will help bridge that," he said.


Morrow hopes to continue this opportunity in the future for students.

"To give them the opportunity to think about their future in that way. A lot of these students given their situation or reality, it was not top of mind," he said.