Return to Headlines
GIPS Announces LaBrie & Ritter Set to Lead Engleman & Seedling Mile Elementaries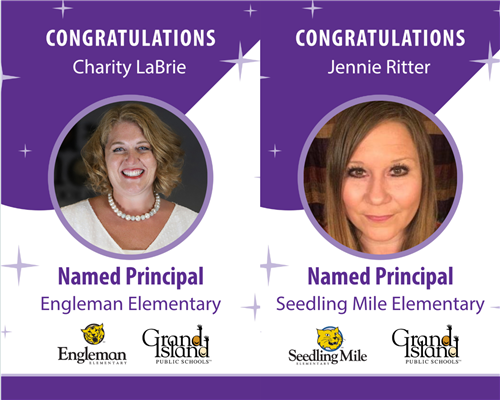 April 24, 2023
GRAND ISLAND (Neb.) — Grand Island Public Schools is pleased to announce that two familiar faces will be stepping into new leadership opportunities! Ms. Charity LaBrie is set to be the next Principal at Engleman Elementary School with Mrs. Jennie Ritter returning to GIPS to serve as the next Seedling Mile Elementary Principal! We are excited for these proven GIPS leaders to continue their positive impact in the district and in the lives of our students.


Ms. Charity LaBrie joined GIPS in 1999 and has been an anchor in the district throughout her roles. She most recently served as Principal of Seedling Mile Elementary for the past 12 years. She also served as GIPS Fine Arts Director, Wasmer Music Teacher and GISH Vocal Music Teacher. LaBrie carries credentials from Hastings College and Doane University.


Stepping into the opportunity to lead Engleman Elementary, while bittersweet, feels like a good fit for LaBrie:
"I'm thrilled to become a part of the Engleman community and continue the wonderful work being accomplished there each day! I've experienced the most amazing educators in my various roles and am confident that meeting a new group of difference makers will only confirm my belief in what we do each day!"


Ms. LaBrie will begin her work at Engleman Principal this summer as Dr. Carrie Kolar is set to serve as the GIPS HR Chief.


Mrs. Ritter is a familiar face within GIPS as she served as a 3rd grade teacher at Starr Elementary School from 2006-2009. She has been teaching at the elementary school level since 2001. Her last four years were spent serving as a district administrator in the capacity of Elementary Curriculum Specialist for the Republic School District in Missouri. Ritter carries credentials from the University of Nebraska - Lincoln where she obtained her BS in Elementary Education with a concentration in Special Education. She also obtained her MSED in Educational Administration from Missouri State University in 2013. Finally, she has plans to continue working on her doctoral degree from Evangel University in Administrative Leadership, Curriculum, and Instruction.


Speaking to her exciting new leadership role, Ritter shared:
"I could not be more excited about being the principal of Seedling Mile Elementary School. It is my dream job. The current leadership has done an excellent job of building a strong culture and community at Seedling MIle. I feel very privileged to continue to build upon all of the wonderful things happening with the students, staff, and families."


As a strong, positive educator, Mrs. Ritter's experience throughout her time in GIPS has shown her heart is in championing student learning. Those who have worked with her certainly know the passion and collaboration she brings to her work will be a wonderful fit at Seedling Mile Elementary.


To see our home-grown leaders making an impact and advancing within the district continues to be a pride point for GIPS.


"Being able to help our employees move into roles that advance their career is something we feel fortunate to be able to do." Mr. Matt Fisher, GIPS Superintendent, said, "It helps keep good people in our district, and knowing them allows us to be confident about them succeeding in new roles. We are excited to have these women moving into these positions."


With these new leadership opportunities taking shape with Ms. LaBrie and Mrs. Ritter, GIPS is excited to see what the future holds for Engleman and Seedling Mile!
#WeAreGIPS