Return to Headlines
Angus Juniors Serve Howard Elementary & GIPS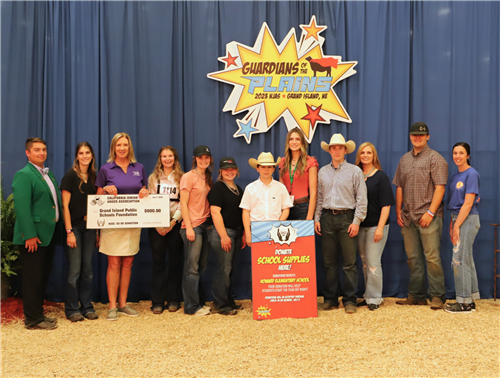 Junior members serve local schools with supplies and donations at the 2023 National Junior Angus Show.

June 21, 2023


A little generosity goes a long way, especially when hundreds of people give a little. That truth came to life with the 2023 "Service to Schools" Angus Impact project, which resulted in the gathering of over 700 items and packages of supplies, in addition to a monetary donation, being collected for public schools in Grand Island, Nebraska.


More specifically, most of the backpacks, headphones, crayons, pencils, erasers and other school supplies given by exhibitors at the National Junior Angus Show on July 1-8 have been directed to Howard Elementary School, a Title I school in the district.


"We would like to thank the participants of the National Junior Angus Show for their school supply donations to Howard Elementary," said school principal Jessica Schroeder. "Your donations help students have supplies to start the school year. The beginning of the year is an exciting time and having new supplies to use aids in that excitement."


Angus junior member, Cailee Flood, said why she was drawn to contribute to the 2023 project.


"I feel like for a lot of kids, school is hard enough to begin with, whether you aren't able to afford the supplies or whatever the reasoning may be," the California junior member said. "I feel like it's really important that we're able to support them like that and be able to provide them with supplies that they need so maybe they can have an easier time getting their education."


Flood along with other California Junior Angus Association members organized a fundraiser totaling $600 through a 5K race their state hosted at the national show. Participants could elect to donate $5 on top of the regular race fee to benefit Howard Elementary students, and 65 of the 95 participants chose to donate the $5 amount or more.


Because of their generosity, Angus juniors and their families made an even larger impact than they set out to make. Jennifer Worthington, chief of community and stakeholder engagement with Grand Island Public Schools, said the additional dollars will allow the district to fill in some gaps other schools in their district might have during the academic year.


Angus Impact is the official community service program of the National Junior Angus Association.

--
About the National Junior Angus Association
The NJAA promotes the involvement of young people in raising Angus cattle while also providing leadership and self-development opportunities for more than 4,500 active members nationwide.
– Written by Sarah Kocher, Angus Communications